Kristin Dykstra
Kristin Dykstra is editor and co-translator of Maqroll's Prayer and Other Poems by Álvaro Mutis, forthcoming from New York Review Books. Her translations of books by Reina María Rodríguez, Juan Carlos Flores, Angel Escobar, and Marcelo Morales were published by the University of Alabama Press, each with her critical introduction.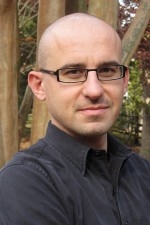 Piotr Gwiazda
Piotr Gwiazda's recent books include US Poetry in the Age of Empire, 1979-2012 (Palgrave Macmillan, 2014) and Aspects of Strangers (Moira Books, 2015). His translation of Zero Visibility: New Poems by Grzegorz Wróblewski is forthcoming from Phoneme Media. He is a Professor of English at the University of Maryland Baltimore County (UMBC).
Patrick Morrissey
Patrick Morrissey is the author of two books of poetry, The Differences (Pressed Wafer, 2014) and World Music (Verge Books, 2017). From 2014 to 2016, he served as poetry editor of Chicago Review.
Jeremy Noel-Tod
Jeremy Noel-Tod teaches in the School of Literature, Drama and Creative Writing at the University of East Anglia. He is the editor of The Oxford Companion to Modern Poetry (2013), the Complete Poems of R.F. Langley (2015), and The Penguin Book of the Prose Poem (forthcoming). The Whitsun Wedding Video: A Journey into British Poetry (Rack Press) appeared last year.
Sam Rowe
Sam Rowe is finishing a Ph.D. in English at the University of Chicago. His writing on poetry appears or is forthcoming in ELH, Romantic Circles Praxis, Chicago Review, and Full Stop.
Gerónimo Sarmiento Cruz
Gerónimo Sarmiento Cruz is PhD student in English at the University of Chicago.

Jean-Thomas Tremblay
Jean-Thomas Tremblay, a Ph.D. candidate in English at the University of Chicago, researches and teaches 20th- and 21st-century U.S. literature, social movements, and theories of embodiment. His writing is compiled at jttremblay.wordpress.com.