Dumpster Tapes
The independent Chicago tape label recreates the waning pleasure of finding a box of old stuff
Reviewed by Max McKenna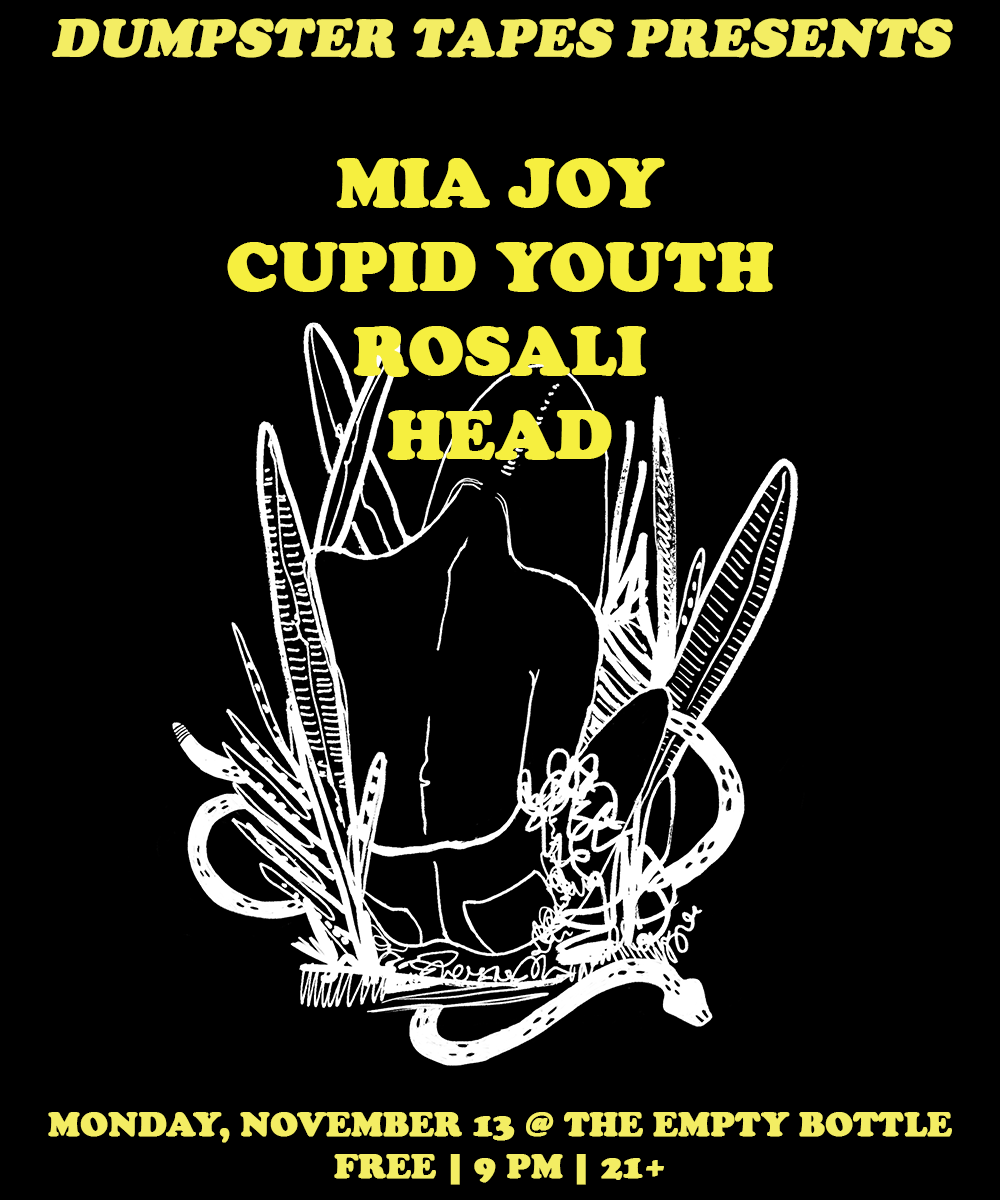 Dumpster Tapes has a broader reach in the Chicago music community than might be expected, given the boutique nature of what they do: that is, making cassette tapes to be sold on the DIY circuit. Specializing in garage rock—specifically, the music coming out of Chicago's sizable garage rock scene—the local tape label has become a fixture at shows, thanks to both its eye-catching analog offerings and its tireless support for its scene. In a world where everybody checks "Interested" on every Facebook event, and, in the end, attends nothing, Dumpster Tapes remains on the ground, creating a kind of gravitational presence around the bands and shows it supports.
Part of that presence comes from the sheer amount of music Dumpster Tapes has managed to release. In just over four years, the label has put out, on average, nearly one cassette per month. That consistent output combined with the quality of the acts they release has paid off. On Monday, November 13, Dumpster Tapes hosted a four-act bill at the Empty Bottle as part of the Bottle's recurring "Free Mondays" series, which doubled as a release party for their latest cassette (their 35th), the lovely four-song Gemini Moon by Chicago-based musician, Mia Joy. It was one of the busier rooms you might find on a Monday night in November.
Joy was supported by two other Chicago acts, Cupid Youth (whose own EP recently came out on Dumpster Tapes) and psychedelic rockers, Head; as well as Rosali, a singer-songwriter from Philadelphia. The acts covered the range of traditionally lo-fi genres that have always shadowed a more popular mode of alternative rock, itself shadowing mainstream rock: shoegaze, psychedelia, punk, dreampop—modes that come out of a domestic tinkering with the rudiments of pop songwriting and performance, be it in your bedroom, garage, or attic.
There's little reason to be coy about your influences anymore; a lot of bands wear them on their sleeves. Cupid Youth, for example, is an excellent homage to Sarah Records–style dreampop; meanwhile, Mia Joy easily draws comparisons to Mazzy Star. The echoes feel intentional. What counts as innovation at this moment is less the cavalier model of the avant-garde and something more representational: a revisiting of the male-dominated indie music canon to open it up to women and people of color. (Mazzy Star, it should be noted, was fronted by Hope Sandoval, who, along with a couple other women artists in the 90s, was already working to expand alternative music communities in these lateral ways.)
But these bands aren't throwbacks by any means; their songs feel very current. Take "10,000," the lead track from Joy's Gemini Moon. It's a gradual washed-out crescendo, content with skirting pop song structure, instead stacking vocal harmonies and varying the melody with uplifting chord changes. Joy sings, "I should be doing 10,000 things but I'm not / I should be thinking 10,000 things but I'm not," and over the course of three minutes, the burden of those 10,000 things lifts. The angst gives way to a cathartic refusal fitting for an age where our imaginations are so easily crowded by all the things we're told we should be doing.
DIY music scenes are famously tight-knit. However, in recent years, those scenes have thrown up bands like Waxahatchee and Mitski that have been able to enjoy crossover success while maintaining their DIY ethos. Although it's rare that you'll hear an explicitly political DIY band, the DIY ethos is increasingly defined by progressive politics and efforts to increase representation in the music industry. "DIY," here, is to be distinguished from "indie," which is less a scene or even business model and more an aesthetic—much as it is with "craft" in beer. Moreover, many "indie" labels, like Matador or Merge, while not subsidiaries of the majors, have become significant players in the music industry and are no longer the scrappy operations they once were. They've become tastemakers in their own right as the line between "independent" or "alternative" music and mainstream pop blurs, exemplified so well in Chicago by the multimillion-dollar, corporate-sponsored Pitchfork Festival.
This is not to pit pop and "authentic" music against each other, which has long been the M.O. of music aficionados, and a stance that Kelefa Sanneh has rightly called "rockist." There's still some reckoning for critics to do on that front, but for artists and listeners, the loosening of rock's stranglehold on "serious" music-making has made room for other identities. But there's a familiar bigger-picture trend happening, too: money keeps getting concentrated in select pockets of the music industry at a time when digital audio and high speed Internet has made it possible for almost anybody to distribute music, their own or others'. What then, in this landscape, can a label accomplish—a label, no less, that specializes in archaic media?
For Dumpster Tapes cofounder, Ed McMenamin, it's about community. "Labels can help solidify or bring together a scene," he told me. "They introduce bands to each other who might not have already been friends, and they introduce listeners to bands they may not have already known."
The spirit of forming open communities based on friendship is a mission critical to the politics of DIY and stands in contrast to the connoisseurship that long defined alternative music appreciation, where elite male-dominated clubs guarded their fandom at all costs. That Balkanizing of creative communities feels out of step with today's crises.
It's precisely as a catalyst for community building that Dumpster Tapes proposes the curious format of the cassette tape. It could be argued that, in the twenty-first century, tapes are antiquarian, creating a high barrier for appreciation: few people have cassette players anymore, whether at home or in their cars. While the label does not sell digital-only versions of its releases, it does offer a download code with a purchase of each tape (and sells tapes online via Bandcamp and Big Cartel). Nevertheless, the choice to sell physical things in an ephemeral market has an interesting effect. According to Alex Fryer, the other founder and owner of Dumpster Tapes, the presence of either herself or McMenamin (or often, both) at all of the shows they support allows them to sell a good number of tapes in person. There's an undeniable aura about the materiality of tapes, too. "As tape and record collectors ourselves, we understand the sentimental value that comes with owning your favorite music on a physical format," Fryer said. "It connects you to it in a different way."
That connection plays out in a few different ways. There's an immediacy to tapes, a gritty instantaneousness, like a Polaroid. Whereas small bands might wait more than six months to get vinyl LPs pressed, with tapes, it takes about four weeks tops to assemble the finished product. They're cheaper, too, and much more portable than vinyl. The course of action that DIY proposes is not as rugged and individualistic as it might seem. Rather, DIY advocates for a way of working that's steady, that makes filtering out the noise a priority, that's democratic, and, finally, that's joyful.
And finally—crucially—tapes are fun. "A tape reminds people of childhood," McMenamin said. "There's that element of play to it." It's true: for a generation in its twenties and thirties, tapes might have been our first musical purchases. They were a big part of being in the car, of listening to a Walkman, of making mixes, of the work that used to go into copying and sharing music. Dumpster Tapes recreates the waning pleasure of finding an old box of stuff and getting to share it with a friend. And while nostalgia seems like a mood antithetical to the progressivism of DIY, Dumpster Tapes isn't merely trafficking in nostalgia. There's a sense that the label is revising the blind spots of the past, going back to an earlier moment in music fandom to uncover new ways forward. Encountering their eclectic catalog is like one of those dreams where your home has an extra room you've never been in before—it's a feeling of possibility that limbers up the imagination.
December 2017
Read more
A View from the Bridge, written by Arthur Miller and directed by Ivo van Hove
Reviewed by Jean-Thomas Tremblay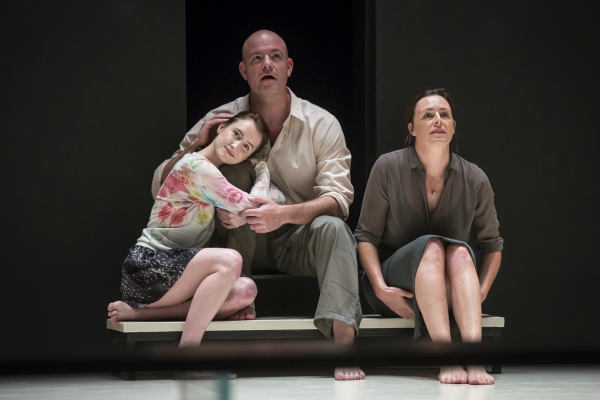 Ivo van Hove's revival of Arthur Miller's A View from the Bridge, the Goodman Theatre's 2017–2018 season opener, oozes cynicism. This production offers nothing defensible on its own terms, and yet demands, aggressively, to be celebrated on the basis of its star director's alleged genius. Van Hove camouflages incongruity and pompousness as rawness. He appears persuaded that no one will notice the subterfuge. Or perhaps he's too contemptuous of his audience to care if anyone does.
Miller's play begins in 1955 as Brooklyn longshoreman Eddie Carbone (Ian Bedford) welcomes, not without some reluctance, his Italian cousins, Rodolpho (Daniel Abeles) and Marco (Brandon Espinoza). Whereas Marco, a hardworking husband and father, is self-effacing, Rodolpho's effeminacy—he sings at work—yields discomfort. Confrontations erupt when Rodolpho starts going out with Eddie and his wife Beatrice's (Andrus Nichols) niece Catherine (Catherine Combs), of whom Eddie is zealously possessive.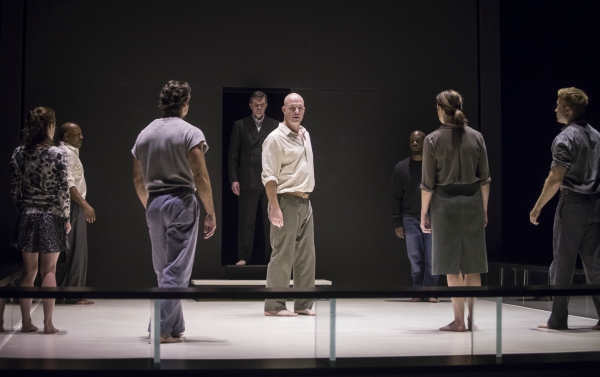 In A View from the Bridge, Miller spells out misogynistic and homophobic ideologies with characteristic didacticism: in order to maintain the incest taboo, Eddie must give his niece away, though not to the queer figure whose illegibility throws into disarray the family unit and its symbolic integrity. Every theater season, of course, revivals of regressive plays profuse. But Van Hove shows no interest in commenting on the politics here deployed. Van Hove insisted in interviews published last summer that the play's depiction of immigrant workers and their monitoring and surveillance supplied enough evidence of the work's contemporary relevance. Van Hove mistakes references to immigration with trenchant commentary.
Van Hove's production, which transferred to Broadway in the fall of 2015 after runs at London's Young Vic and Windham's Theatre, earned the 2016 Tony Award for Best Revival of a Play. The set, imported from the show's previous runs, accomplishes the unlikely feat of making minimalism showy. A fluorescent-lit prism, deeper than wide, cracks the Goodman's traditional proscenium configuration. For no apparent reason other than to provide, as an ad pledges, "the ultimate theatrical experience," rows of seats are added on each side of the thrust stage. For Van Hove and his scenic and lighting designer Jan Versweyveld, proximity to the action, no matter the content of the action, enhances viscerality.
The direction proves just as baroque as its setting. Cast members are confined to one-note portrayals. Catherine, a human projectile, throws herself in all directions. She repeatedly jumps into Eddie's arms, wrapping her legs around his torso. The blocking screams, "Theirs in an inappropriate intimacy." Van Hove's direction slips from unsubtle to outright gimmicky when, as the climate grows hostile, a metronome marks the cadence of the actors' line delivery. The stunt quickly gets old, but it is somehow reprised a few scenes later with an added element: the stage directions are now read aloud. Such manufacturing of dramatic tension would be distracting if there were anything from which to be distracted. And still, the ending takes the cake. After a clash with Eddie's cousins that leaves him stabbed, blood rains on the white stage. Rubbing salt in the wound, Alfieri (Ezra Knight), an American lawyer raised in Italy who serves as the play's narrator or chorus, delivers a monologue regarding Eddie's "perverse purity." Nothing is as pure as toxic masculinity, indeed.
Van Hove may be a leading figure of avant-garde theater, but his staging of A View from the Bridge amounts to little more than ideological business as usual supplemented by tacky pyrotechnics.
November 2017
Read more
Seeing Eldzier Cortor
Written by Liesl Olson
First published in Chicago Review 59:4/60:1, 2016.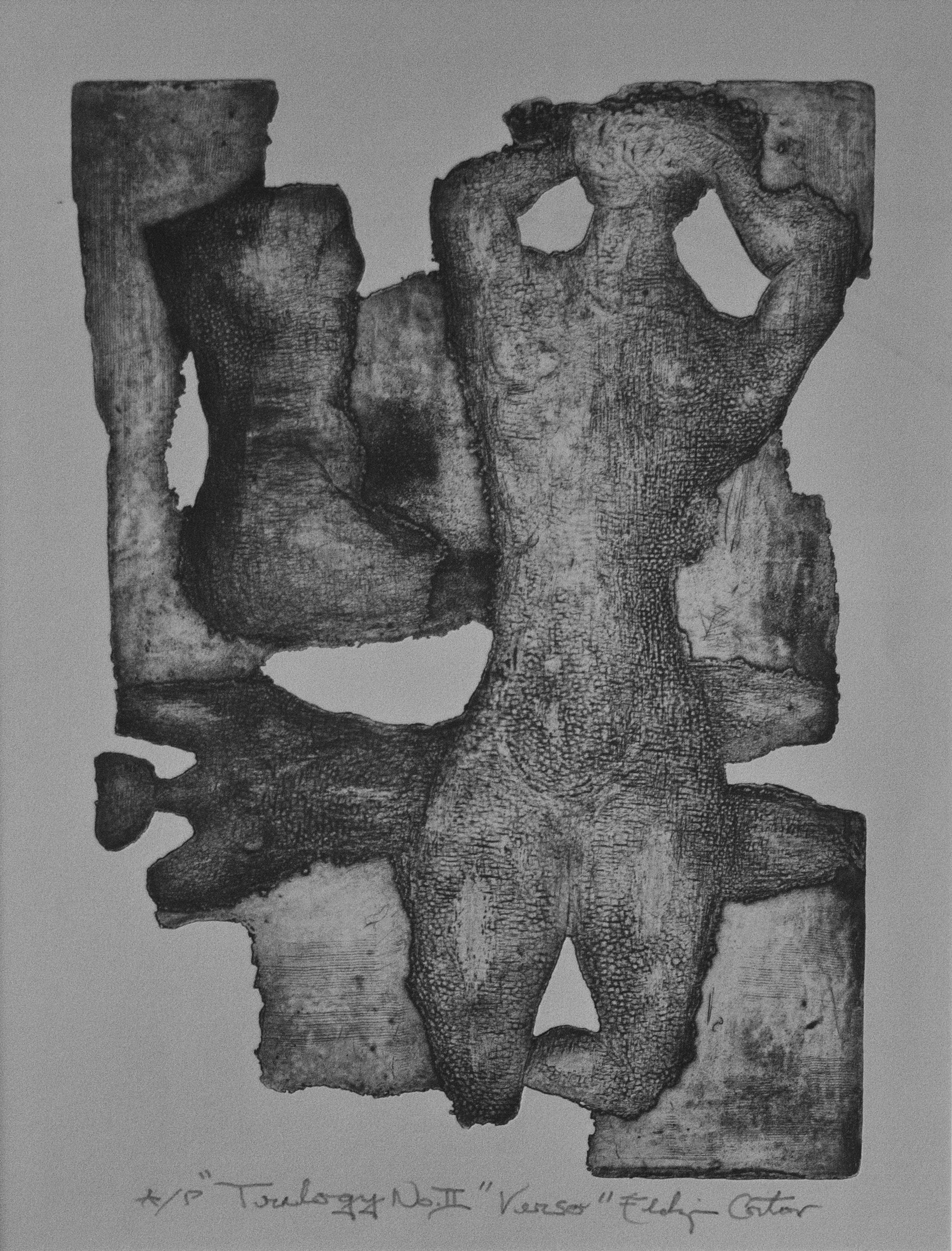 Eldzier Cortor died on Thanksgiving Day, 2015, about seven months after I interviewed him. He was ninety-nine years old. According to his son Michael, Cortor worked as an artist up until the day he died.
The New York Times ran a generous obituary of Cortor, which included a photograph of him, sitting upright and bow-tied, taken by the photojournalist Gordon Parks in 1949. This photograph presented Cortor just after winning a Guggenheim fellowship, which would take him to Cuba, Jamaica, and Haiti. The Times also ran a front-page story titled "Black Artists and the March into the Museum," in which Cortor was featured, and which included several short video-interviews with black artists. An assessment of black art in the twentieth-century art market, the Times piece underscored a bittersweet irony in the age of modernist formalism during which Cortor and other artists developed their careers. If a black artist chose to work in a figurative mode, then his or her work was likely to be pigeonholed by the white establishment as expressive of the "black experience." But if he or she chose to work in abstraction, then this work did not fit the category of "black art" as conceived by the country's leading museums.
Has the art world caught up with the idea that modernism was many things? Cortor—whose range of work is difficult to classify—remained skeptical.
Read More
The Terror of Ordinariness: On David Lynch
David Lynch: A Complete Retrospective
The Music Box Theatre, Chicago April 27 – May 4, 2017 Programmed by Daniel Knox
Reviewed by Eric Powell
"Shut the fuck up," said Daniel Knox, but good-naturedly, to the packed audience waiting to watch Twin Peaks: Fire Walk with Me (1992) at the Music Box Theatre. This was, as he said, a point of "etiquette," and he went on to tell everyone to hold in their self-conscious, I'm-in-the-know laughter and other noises. It wasn't a misplaced request. There was an odd feeling of camaraderie among the crowds that attended the complete retrospective of David Lynch's work at the Music Box Theatre, as if it were a convention for some rare association, such as the International Association of Professional Conversational Hypnotists (yes, it exists). There had been self-conscious laughter on the previous two nights. But it didn't annoy me much because it was coming from a place of genuine love for the films, a love that wanted to be shared. I assume that, like myself, many of the people in the audience had never had the chance to see many of Lynch's films in the theater, and had been watching them in solitude at home; we all finally got to come out of the closet, together. (Of course, not everyone was already initiated. When we arrived at the first scene in Eraserhead (1977) of the monstrous premature baby, a woman a few rows in front of me, clearly aghast, held her arms up in the air for at least ten seconds in utter disbelief.)
It was a rare opportunity that probably won't come around again any time soon. And it really was a complete retrospective: in addition to showing all of Lynch's feature-length films in 35mm (yes, even Dune (1984)), Knox included all of the deleted scenes from the films, and all of Lynch's shorts. It was a marathon. Try walking out of the theater after having watched Blue Velvet (1986), David Lynch: The Art Life (2016), Industrial Symphony No. 1 (1990), and the deleted scenes from Wild at Heart (1990), all in one go. Talk about defamiliarization! I doubt that even the most hardened Lynch fans could do it all each night of the retrospective.
The impetus for this retrospective was clearly the new Twin Peaks, which premiered on Showtime on May 21—Lynch's first major film endeavor since Inland Empire came out in 2006. I was, as many others no doubt were, happy to have this retrospective as preparation for the much-anticipated return of Lynch, and of the now-legendary Twin Peaks (1990–91). It was also a tribute to the career of one of the most important filmmakers alive. It is, after all, impossible to conceive of the landscape of contemporary American cinema without Lynch. If he didn't exist we would have to invent him.
Watching everything altogether allowed me to track and connect themes that run throughout Lynch's work. Not themes, rather, but pathological obsessions: with domestic violence and marital infidelity, with 1950s Americana, with curtains (typically red), with fire, with desolate stretches of road at night, with mirrors and doubling, with the dualism of public and private lives, domestic and hidden lives. This latter dualism is one of the most persistent aspects of Lynch's material, and it often shows up symbolically in the form of two different women, blonde and brunette (which Lynch perhaps takes from Hitchcock's Vertigo, echoes of which abound in his films). I had never noticed this before, but it is a constant feature of his work: Mary X and the Beautiful Girl Across the Hall in Eraserhead; Sandy Williams and Dorothy Vallens in Blue Velvet; Lula Fortune and Perdita Durango (Isabella Rossellini with her hair dyed blonde) in Wild at Heart; Laura Palmer and Donna Hayward, as well as Laura Palmer and Maddy Ferguson in Twin Peaks; Renee Madison and Alice Wakefield (both Patricia Arquette) in Lost Highway (1997); Betty Elms/Diane Selwyn and Rita Hayworth/Camilla Rhodes in Mulholland Drive (2001); Nikki Grace/Susan Blue and the Lost Girl in Inland Empire. The blonde/brunette binary symbolizes a kind of Blakean dialectic of innocence and experience, rooted in sexuality. As with so much of Lynch's work, it has its origin in Eraserhead and finds its prototypical expression in Blue Velvet, where Jeffrey Beaumont is in love with the innocent blonde Sandy (Laura Dern) but finds himself passionately desiring the older, more experienced brunette Dorothy (Rossellini).
Another dualism that Lynch obsesses over is that of the inside and the outside. This often takes the form of holes, whether in bodies or in structures (doors are incredibly important in his work). Characteristically Lynchian: the camera zooms in on, eventually entering, a hole of some sort, drawing us into another reality. Think of the opening of Eraserhead, where the camera passes over that richly textured surface of the undisclosed planet, until it finds a hole and slowly zooms into it; or the moment in Mulholland Drive when Rita opens the blue box, and the camera dives into the black hole, resulting in a kaleidoscopic reordering of the reality of the film. This obsession with holes runs as far back as The Grandmother (1970), a minor masterpiece, in which a young boy plants a seed in a pile of dirt on a bed; the seed grows over time into a monstrous organism that is seemingly half-plant, half-animal. Then, in the film's most unforgettable scene, this organism gives birth to the eponymous grandmother, fully formed. The boy takes the role of a doctor, helping to pull the body of the grandmother out of the hole. The inside/outside duality takes us to the heart of Lynch's work, connecting as it does with the opposition of surfaces and depths. That opposition, in a way, could be said to tie the various aspects of his work together.
There is by a now a set of received ideas about Lynch: he's a sensualist; he exposes the dark underbelly of suburban American life; his work taps into the subconscious, or unconscious; he's a surrealist (Pauline Kael: "the first populist surrealist—a Frank Capra of dream logic"). These things together supposedly produce that utterly unique style that has earned its own adjective: Lynchian. In David Foster Wallace's formulation: "An academic definition of Lynchian might be that the term 'refers to a particular kind of irony where the very macabre and the very mundane combine in such a way as to reveal the former's perpetual containment within the latter.'" This isn't bad; but to his credit Wallace isn't fully satisfied with it, saying "Lynchian is one of those Porter Stewart–type words that's ultimately definable only ostensively—i.e., we know it when we see it." What is it about Lynch's work that makes it so difficult to discuss analytically?
Received ideas about Lynch are getting in the way of thinking about his work at this point. It's helpful , as it often is, to consider Lynch's work in phases: the first phase would begin with Lynch's first experiment with film, Six Figures Getting Sick (1967), and culminate with Eraserhead in 1977; the second phase would be his brief detour into Hollywood cinema with The Elephant Man (1980) and Dune in 1984; the third and essential phase—the one in which the Lynchian is born, matures, and, arguably, dies—would run from Blue Velvet in 1986 to Twin Peaks: Fire Walk with Me in 1992; the fourth phase would encompass Lost Highway in 1997, Mulholland Drive, and Inland Empire in 2006. These phases, I think, are justified not just historically, but also stylistically. The element of camp, for example, that is so strong in the third phase mostly drops away in the fourth phase, in which Lynch becomes more and more involved self-reflexively in making films about film and Hollywood, and with creating complex, nonlinear narrative structures.
Now for the received wisdom about Lynch's work. Pauline Kael of the New Yorker had already called Lynch a sensualist filmmaker in her review of Eraserhead. But Lloyd Rose in 1984 came closer to the truth: "Lynch is one of the great movie sensualists," she wrote, "but his is an odd sort of sensuality, because there's no overt sexual charge to it. Even when he's dealing with directly sexual symbols, there's something cool and dry, clinical, in his attitude. And his technique has no lush pleasures." This insight is confirmed by a comment that Lynch made in an interview in 1985: "I love flesh, too," Lynch said, "but flesh, just beautiful flesh, everybody loves this texture, but sometimes flesh in other forms also is very beautiful." "Such as?" the interviewer asks. "Such as the Elephant Man, really. Or just maybe sores…. As soon as you put a name to it, it stops you really from seeing it as an interesting texture, but if you just saw it in an abstract way—nature is so fantastic…so many things you stop looking at because you know exactly what it is. But if you would look at it and not know what it was it would be a fantastic thrill. There's many medical books that have a thrill on every page."
These comments from Lynch are very revealing. Most of us cannot see the Elephant Man, or, say, a photograph of someone undergoing open-heart surgery, and find them beautiful. The reason is that we can't distance ourselves from the fact that these are human beings. There is an amoral aestheticism to Lynch's films that I find hard to call sensualism. If Federico Fellini, for example, is a sensualist, then Lynch is something else. Even the prosaic, ugly sexuality of Pier Paolo Pasolini's films has much more of sensuality than Lynch.
Deeply tied to this is the core ethical problem posed by Lynch's films. How can he make such beautiful works that are so disgusting from a human perspective? Eraserhead is simultaneously a profoundly beautiful and a profoundly disgusting film, made even more disgusting when you think about the fact that Lynch made the film after just having had an unwanted baby. The critical controversy over his work has essentially revolved around exactly this dilemma. In "My Problem with 'Blue Velvet'," Roger Ebert conceded the brilliant craftsmanship and style of the film, but nonetheless felt that it was, essentially, unethical: "The movie is powerful, challenging and made with great skill, and yet it made me feel pity for the actors who worked in it and anger at the director for taking liberties with them." He objected in particular to the treatment of Isabella Rossellini: "there are some scenes in which a woman is degraded and humiliated and made to suffer obscenely, and other scenes in which we're supposed to giggle because the call letters of the local station are WOOD, and they give the time 'at the sound of the falling tree.'" Indeed, the treatment of women in his films is deeply problematic. In my mind, more disturbing than even the most disturbing scenes in Blue Velvet is the infamous "fuck me" scene between Bobby Peru (Willem Dafoe) and Lula Fortune (Dern) in Wild at Heart. What makes the scene truly fucked up is that Lula is made to want it, at least for a moment. Patricia Arquette admitted that she cried between takes during the filming of Lost Highway. Lynch's response to the criticism of Blue Velvet is hardly adequate: "If it's just Dorothy, and it's her story—which it is to me—then everything is fine."
It might seem counterintuitive, but I believe there is in fact a deep-seated, Christian-like hatred of the flesh manifest in Lynch's work. Such hatred is almost always a male hatred and fear of the woman's body, tied up in envy of the fact that women give birth. In David Lynch: The Art Life, Lynch hints suggestively at the fact that his mother was a deeply religious woman. In this light, Lynch's clinical detachment takes on the same kind of hue as the detachment from one's own body required by Christian mortification of the flesh.
One reading of Lynch, as Slavoj Žižek has pointed out, is a Manichaean one in which there are two opposed spiritual forces in his universe: good and evil. There is the good simplicity of everyday small town or suburban American life, in which people are basically decent and fair to each other (think of the Double R diner in Twin Peaks), and then there are the hidden dark forces of evil (think of the Black Lodge, or One Eyed Jack's in Twin Peaks). This is a viable reading. But, as Žižek himself does, I find it ultimately unsatisfactory. It's too simple, in Lynch and in life, to say that there are evil individuals in the world that are responsible for all the evil deeds. This is the naïveté displayed by Jeffrey Beaumont in Blue Velvet when he asks Sandy why there are people like Frank Booth (the brilliant Dennis Hopper) in the world. What Jeffrey learns from his encounter with Dorothy, however, is that he has exactly the same potential for sadomasochism that Frank does. The dark underbelly of suburban life, in the end, is just as essentially of it as cherry pie and coffee and small talk are.
It's not quite right to call Lynch a surrealist, either, though it's obvious that he was influenced by the surrealist filmmakers, especially Cocteau, and that he is interested in dream logic. Rather, I would suggest that Lynch presents, at least in the proper Lynchian third phase of his work, a combination of hyperrealist depictions of the mundane juxtaposed with an infrarealist penetration beneath these surfaces. The two are deeply interconnected in the work, however: the hyperrealist treatment of surface 'reality', of ordinariness, dialectically resolves into the infrarealist—Jeffrey Beaumont finds a severed ear and takes it in a paper bag to the Sheriff. What makes it so difficult to adequately describe—and makes it so easy to just describe as surrealism—is how seamlessly surface and depth resolve into one another. It's a very fine line. (Just how fine is revealed by the second season of Twin Peaks, which, in the absence of Lynch after the first few episodes, devolved into a regular old soap opera.) That Lynch has walked this line successfully several times is a mark of his brilliance, at least as a stylist. Ultimately, we might say that Lynch's work shows that hyperreality is infrareality, and vice versa. He's in fact just taking us in too close to reality itself for comfort. There are fathers, like Leland Palmer in Twin Peaks, that live normal lives, enjoy dancing to big band jazz, and then rape their daughters (or wives, or other women) at night. Žižek makes a similar point, in his own way, when he says that "one cannot simply oppose this violent 'subconscious' to the good one—in Hegelese, one should assert their speculative identity. Doesn't Lynch's ultimate message reside therein, as in 'Twin Peaks,' where Bob (Evil itself) is identical to the 'good' family father?" Lynch could be said to present a particularly stylized filmic expression of Hannah Arendt's "banality of evil" thesis.
But, as remarkable—I almost want to say dazzling—as the evil characters can be in Lynch, it's the ordinariness, in the end, that makes Lynch's films terrifying; he has a remarkable ability to instill into the familiar a pervasive sense, yet unidentifiable in any single detail, that something isn't quite right. Watching again that justly famous opening sequence of Blue Velvet—the movement from the too-bright roses and the too-white picket fence in a too-idyllic suburbia down into the soil and the writhing hell of insect life underneath it—I was reminded of a striking and, I think, profound passage in George Eliot's Middlemarch: "That element of tragedy which lies in the very fact of frequency, has not yet wrought itself into the coarse emotion of mankind; and perhaps our frames could hardly bear much of it. If we had a keen vision and feeling of all ordinary human life, it would be like hearing the grass grow and the squirrel's heart beat, and we should die of that roar which lies on the other side of silence." The truth of this is borne out by David Lynch's work, for he has been blessed, or cursed, with a keener vision and feeling of all ordinary human life than most of the rest of us, and he wants us to at least hear something of that roar which lies on the other side of silence.
July 2017
Read more
Bootycandy, written and directed by Robert O'Hara
First production of the Windy City Playhouse's 2017 Season
Reviewed by Jean-Thomas Tremblay

A mountain of lime green Jell-O shots greeted theatergoers in the lobby of the Windy City Playhouse on Saint Patrick's Day. A brash, acerbic, overly sweet welcome, and yet a relatively tame prelude to a bold production of Bootycandy, written and directed by Robert O'Hara.
The play contains what at first appear to be a series of vignettes linked, if narrowly, by common thematics: the expression of desire and the negotiation of gender and class identities in primarily black settings. Concluding the first act is a conference panel at which four exasperated African American playwrights indulge an exasperating white moderator by describing current works in progress—works that we, the audience, have just witnessed. If this mise en abyme comes across as somewhat of a gimmick, the second act cleverly mashes up the different storylines, in addition to abolishing the boundary between said storylines and the brand of meta-commentary on display in the conference scene. What emerges from this creative chaos is an impressionistic epic that covers the journey from childhood to adulthood of Sutter, a black gay man.
A different epic could be written about each actor's journey through a performance. Krystel McNeil, Travis Turner, debrah neal, Osiris Khepera, and Rob Fenton, who are simply identified as Actors One, Two, Three, Four, and Five, jump from one part to the next, maintaining, over two and a half hours, a spectacular level of energy. Actors show conviction and enthusiasm as they navigate a script that switches back and forth between hysterical comedy and melodrama. All acting here is—it seems on purpose—a kind of overacting: the comedic moments are so broad and dramatic ones so histrionic that Bootycandy's frequent tonal shifts are especially jarring. As one of the playwrights in the conference scene claims, art should induce discomfort; it should choke its audience.
In one scene, Sutter (Turner, masterful) and a closeted white man (Fenton) flirt and agree to have sex. The sultry vignette, in which Setter gets his coy interlocutor to state, in detail, the sex acts that he wants to perform, becomes increasingly unsettling as we learn that the closeted man is in fact Sutter's brother-in-law, Roy, and that Sutter had his first sexual encounter as a teenager—a consensual encounter, he insists—with Roy's own father.
We return to Sutter's childhood in the second act. At the dinner table with his mother (neal), stepfather (Khepera, fiery), and sister (McNeil, memorable), Sutter, torn between fear and shame, reveals that a stranger, who we understand to be Roy's father, followed him on the way home from the library. The scene veers into sardonic comedy when Sutter's mother and stepfather list dozens of guidelines for appearing less effeminate, as if Sutter's look and demeanor—he's clad in Michael Jackson's signature sparkling glove and "Thriller" jacket—warranted the harassment.
Bootycandy invites us to consider the many parts played by a given actor in relation to one another. Players not only move across registers, but also create voices that harmonize with each other. Actor Five's parts are especially, and eerily, coordinated. Fenton, the only white individual in an otherwise all-black cast, becomes a figure of white lameness as he embodies a sequence of characters seeking validation from people of color.
Bootycandy takes place as much on the stage as in the audience. (A blessing, really: the backdrop of Katie-Bell Kenney's uninventive set, the silhouette of a skyline onto which is projected the title of each scene, resembles the set of a 1980s late-night talk show.) Cast members repeatedly break the fourth wall, notably as they venture onto the runway that cuts across the main floor of the auditorium, set up like a cabaret. Actors listen and respond to the audience, compelling us to notice our own and each other's reactions. Who's still laughing uproariously when physical comedy has turned into cringe comedy? Who, on the North Side of Chicago, gets to laugh at a joke about a black person having to deal with white imbecility? And who gets to choke?
Don't be fooled by the gelatinousness of the Jell-O shots. Bootycandy is a real jawbreaker.
Read more